24/7 Emergency Water Heater Repair Services in Rochester, NY and Nearby Areas
At Excellent Air Heating & Cooling, we understand how important it is to have hot water in your home. That's why we provide 24/7 emergency services for water heater repair in Rochester, NY and nearby areas. Our team of professionals can quickly diagnose the issue and provide prompt solutions to get your warm water running again as soon as possible.
No matter what type of water heater you own – gas or electric, tankless, etc. – our technicians are well trained to work on all types of systems and models. We understand that a faulty hot water system can lead to numerous problems like cold showers, higher energy bills, poor performance, leaks, and more. We will ensure that you have reliable hot-water access no matter what time of the day or night it is!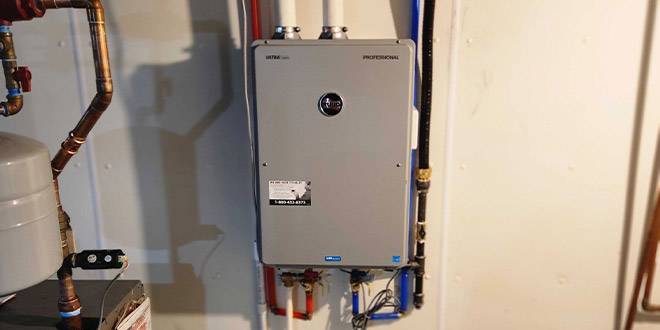 Rochester's Leading Service Provider of Emergency Water Heater Repair Services
In recent years, water heaters have become much more efficient, thanks to growing consumer awareness. Many New York homeowners are switching to energy-saving models. While some of these heaters cost more up front, they save money in the long run and are easier on the environment.
Our team at Excellent Air Heating & Cooling wants to help you find the water heater that perfectly fits your household. For years, residents have trusted us for their water heater repair needs. Our experienced technicians are highly trained to handle any situation and make sure that the job is done right the first time.
Dependable Tankless Water Heater Services in Rochester,NY
The wide range of tankless water heaters available today come in different sizes, designs, and fuel types. They are extremely efficient as they only heat up when there is a demand for hot water. This feature helps reduce energy consumption significantly and allows you to save money on your monthly utility bills.
With the help of our experts, you can enjoy all the benefits of a tankless water heater. We are Rochester's leading provider of tankless water heater installation near me. Our technicians will take care to install your new system correctly and advise you on how to maintain it for optimal performance.
We also have a team of reliable tankless water heater repairman that are ready at a moment's notice. We have the right tools and expertise to diagnose any issue, big or small.
Water Heater Installation and Replacement
Looking for a new water heater? Let our team help you out. We'll work with you to find the best water heater to meet your needs and budget. We want to be sure you have a heater you're satisfied with that will last you as long as possible.
If you are spending more and more on repairs on your current water heater, it may be time to replace it with an upgrade. A higher-efficiency model can help you save money on your energy expenses. Over time, these savings will cover the investment you made on your new water heater. We offer financing, so be sure to ask about our available options.
Water Heater Repairs in Rochester, NY,
Is it taking longer and longer to get hot water in your shower? Notice leaking or unusual noises coming from your water heater? Water pressure changes? Don't hesitate to give us a call. Let our team of experts repair your water heater. Whether you have a leak or a faulty pilot assembly, we have you covered.
We will always give you a competitive estimate before performing any service and provide a warranty on our repairs. And if you have a water heater emergency, we are here for you 24/7.
Water Heater Maintenance
Did you know yearly maintenance is an important part of maintaining your water heater? Let our team take care of all your maintenance needs. We can catch issues early to prevent costly repairs in the future.
Regular professional maintenance can help with the following:
Water tanks are vulnerable to corrosion over time. Your anode rod, which protects your tank from corrosion, needs to be checked and replaced.
The tank needs to be drained and flushed once a year to remove buildup. Sediment buildup can damage your tank over years.
Mechanical components, like the pilot light, are vulnerable to problems over time and need to be cleaned and checked to prevent unexpected, costly repairs or replacements.
To help save money on your professional maintenance, talk to us about our preventative maintenance program, Comfort Club. Your water heater is covered along with your heating, ventilation, and air conditioning (HVAC) system. A membership gives you maintenance reminders, priority service, discounts, and more.
How to Find the Best Water Heater Solution for Your Home
There are various types of water heaters, and it can be confusing to decide which one best suits your needs. Many factors will take part in determining the best solution for your home. From tankless to hybrid, we will help you find the best water heater for you.
The size of your household, desired hot water capacity, fuel type availability and budget all play a role in what option is best for you. Our experts can provide you with an assessment and make recommendations on the best model that fits your needs so you have peace of mind knowing that your family's hot water needs are covered.
We understand how important it is to keep your family safe and comfortable. That's why our team at Rochester Water Heater Company provides top-notch service from start to finish. Whether it's installation or maintenance of a new system, repairs on an existing one, or a replacement – we take the time to ensure that your water heater is running reliably, efficiently and safely. We are here to serve you with all your water heating needs—big or small.
Call Us Today for All Your Water Heater Needs
Our Excellent Air Heating & Cooling team is proud to offer you water heater service—from installation, replacement, repairs, and maintenance—in Rochester, NY. Regardless of your water heater needs, you can count on us. We are here to help you find the right solution and provide you excellent customer service.
Call our team today at 585-889-7840 and let's get started! We look forward to helping you out.