24/7 Emergency Heating Repair in Rochester, NY and Nearby Areas
There are many things that can go wrong with heating systems, but the one thing that is constant is the unpredictability of Rochester winters. One day, it's warm enough to be outside without your heating system running and the next day, you are snowed in with sub-zero temperatures outside. A heating system that isn't working properly can be a nuisance and also pose a safety risk to your family.
If you are experiencing heating problems, don't hesitate to call Excellent Air Heating & Cooling for emergency heating repair in Rochester, NY. With over a decade of experience and licensed technicians, we can ensure fast and reliable service for all your heating repair needs.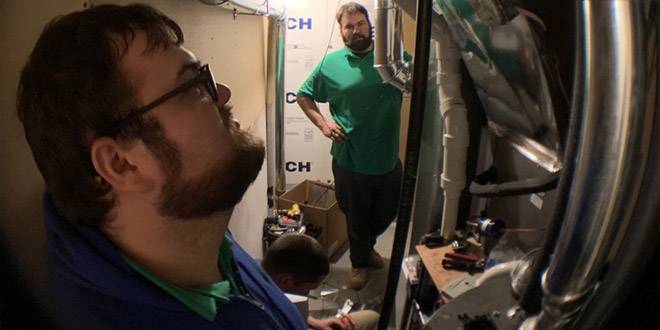 Keeping Rochester's Homes Comfortable Since 2003
Excellent Air Heating & Cooling is a local company that specializes in emergency heater repair for all major brands of heating equipment. With years of experience and commitment to quality service, our technicians are best equipped to handle any issue with your furnace or air conditioning system. We offer affordable rates and free estimates on repairs and replacements so you don't have to worry about costs when you call us.
Our service includes everything from furnace tune-ups to air conditioning repair and replacement, ensuring you get the repairs and service you need quickly and efficiently. This is because our focus is on helping our customers stay comfortable year-round, not just during the hot summer months.
As a matter of fact, we are committed to providing quality service at reasonable prices. That's why we offer a 100% satisfaction guarantee on all of our heating repair services. So if you are looking for a reliable emergency repair service in Rochester, NY and surrounding areas, look no further than Excellent Air Heating & Cooling.
Fast and Reliable Emergency Heating Repair in Rochester,NY
Napora Heating, Inc. is a leading emergency HVAC repair service provider in Rochester, NY. With our 24-hour emergency service and a team of skilled technicians, we're always available to help homeowners with any type of heat system repair. From routine service calls to emergency repairs, we have you covered. We can help with anything from air conditioning repairs to furnace replacement.
We offer ductless furnace service too, which makes it easy for homeowners to stay comfortable without the hassle of air conditioning or heating systems. So when the weather gets cold or your home starts to get hot, you can count on Excellent Air Heating & Cooling for reliable emergency services.
Signs You Need Residential Emergency Heater Repairs
Having a reliable and efficient heating system is essential for your home's comfort and safety. Unfortunately, emergencies can happen at any time, leaving your heating system in need of urgent repairs. If you're unsure whether or not you need to call an emergency heater repair service, here are some signs that indicate you may need professional help:
Unusual Noises – If your heating system starts emitting strange noises like banging, rattling, squealing, or clanking then it could be a sign of trouble. These sounds can indicate a problem with the fan belt, motors, or other components of the system that require immediate attention from a qualified technician.
Poor Air Quality – If the air coming out of your vents is musty, stale or smells like something is burning, it could be a sign that your system needs repair. This could indicate an issue with the air filter or other parts of the system that need to be addressed right away.
High Energy Bills – If you suddenly see a significant hike in your energy bills then it might be time to call an emergency heater repair service. A faulty heating system can cause your bills to skyrocket without providing adequate warmth for your home.
Uneven Heating – If certain rooms in your house are warmer than others, it's likely due to poor circulation and airflow from your heater. Uneven temperatures can be caused by clogged filters, broken fan belts, or other issues that require professional attention.
Temperature Swings – If your heater is constantly cycling on and off, it could mean that the thermostat has become faulty or requires adjustment. A normal, working system should stay on for a set amount of time before cooling off. If your heater is switching up frequently, it might be time to call an emergency repair service.
By being aware of these signs, you can take the necessary steps to protect your family and home from the danger of a malfunctioning heating system. If you recognize any of these issues in your own home, don't hesitate to contact a professional emergency repair service right away. They'll be able to diagnose the problem quickly and get your heating system back up and running in no time.
What to Look for When Choosing a Heating Repair Company in Rochester, NY
When choosing a local heating repair company in Rochester, NY it's important to make sure that you select one with experience and expertise in the field. Here are some things to consider when making your decision:
Licensing and Insurance – Make sure that the company you choose is properly licensed and insured before allowing them access to your home or business. This will ensure that any work performed is done safely and correctly according to local industry standards.
Reputation – You should always ask for references from past customers so you can get an idea of the service quality provided by the company you're considering. Read online reviews, talk with neighbors, and research the Better Business Bureau ratings of potential companies before making a decision.
Cost – Inquire about the company's cost structure and their payment terms before agreeing to any work. Ask if there are any special promotions or discounts that you may be eligible for as well.
Equipment and Experience – Make sure the company you choose has access to the latest heating repair equipment, tools, and technology so they can quickly diagnose your problem and make effective repairs. It's also important to ensure that their technicians have been adequately trained in all aspects of residential heater repairs and maintenance.
By doing some research ahead of time, you'll be able to find a reliable local heating repair service in Rochester, NY that will provide quality repairs at an affordable price. Following these tips will help ensure that your problem is fixed quickly, safely, and correctly the first time.
Call Excellent Air Heating & Cooling for Emergency Heater Repair in Rochester, NY
If you are looking for a dependable heating repair service in Rochester, NY consider Excellent Air Heating & Cooling. Our technicians are available 24/7 to provide emergency furnace and boiler repair services. Whether you need furnace repair or air conditioning service, our team can help. We can also assist with ductless heating repairs and water heater installation and repair services.
For reliable and affordable heating repair services, call Excellent Air Heating & Cooling. Our team can service all makes and models of heating systems, making us an ideal choice for homeowners who want to save money on their heating bills. You can reach us by calling 585-889-7840