Leading Heating Maintenance Services in Rochester, NY and Nearby Areas
Looking for a dependable heating maintenance service in Rochester, NY? If yes, you're at the right place. At Excellent Air Heating & Cooling, you can find a team of heating maintenance professionals who are well-trained and equipped to handle any heating system repair or maintenance service in Rochester with the utmost care. We will arrive at your doorstep on time and ensure that your furnace is working like new again.
Besides furnace maintenance services, we also offer air conditioning repair and cooling system maintenance services in Rochester. Regardless of the make or model of your furnace, we have the skills and experience to get it working again in no time. So, if you are looking for a reliable heating maintenance company in Rochester, NY, then give us a call today!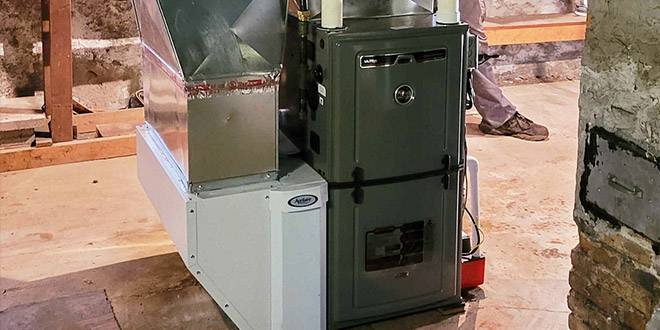 Residential Heating System Maintenance in Rochester, NY
Excellent Air Heating & Cooling is a full-service provider of heating and cooling services in the Rochester area. With our team of certified technicians and service specialists, we can help keep your system running efficiently and effectively. Our HVAC service offerings include cooling and heating services, boiler services, ductless system services, and more. Whether it's a preventive maintenance service or an emergency repair job, you can trust our team to provide quality work.
With how imperative it is to keep a comfortable temperature in your home, you need an HVAC system that you can rely on. If not maintained properly, your furnace or air conditioner could break down when you least expect it – often during the hottest or coldest days of the year. To prevent this from happening, we offer preventive maintenance services for all types of heating and cooling systems.
Our preventive maintenance service is designed to identify potential problems with your furnace or air conditioner before they cause any damage to your system. We will thoroughly inspect every part of your system and make necessary adjustments to ensure that everything is working properly. This will not only improve the efficiency of your system but also extend its lifespan.
Benefits of Regular Heater Maintenance Service
Regular heater maintenance services are vital to the long-term health and performance of your heating system. With that, here are some of the benefits of regularly scheduling an appointment for heater maintenance:
Improved System Reliability: Regularly maintaining your heating system helps to ensure that it runs reliably and efficiently throughout its lifetime. Our skilled technicians can check for any potential problems and make sure any necessary repairs or replacements are addressed promptly, reducing the chances of a major heating breakdown.
Lower Utility Bills: If your heating system is well-maintained, it runs more efficiently and uses less energy. This translates to lower utility bills, as you won't be wasting energy on a malfunctioning system. Not only will you save money in the long run, but you'll also be helping to reduce your impact on the environment.
Improved Safety: Heating systems that are not regularly maintained can pose a risk of fire or carbon monoxide poisoning due to faulty wiring or worn-out parts. Having regular maintenance performed will help ensure that your system is safe and running correctly at all times. Not to mention the peace of mind you'll get knowing that your family is safe.
Prolonged System Lifespan: By following a regular maintenance schedule, you can extend the lifespan of your heating system and get more years out of it before needing to replace it. Regularly servicing and replacing worn-out parts will keep your system running smoothly and efficiently for longer. A cost-effective and long-term solution for your home's heating needs.
Quality Comfort: Finally, regularly maintained heating systems offer better temperature regulation and improved comfort in your home. Your family will appreciate the consistent temperatures and enjoy greater comfort all year round
Overall, regular maintenance of your heating system is essential if you want to ensure that it runs reliably and efficiently. That's why it pays to invest in regular heater maintenance services from a trusted provider like us! We have the skill and experience needed to make sure your system is running properly at all times.
Top-Rated Furnace Maintenance in Rochester

At Excellent Air Heating & Cooling, we pride ourselves on providing furnace maintenance services of the highest quality. Our technicians are highly-trained and proficient in furnace repair and maintenance, and they use advanced diagnostic tools to ensure efficient furnace maintenance services for our customers.
No matter how severe the problem or how many years your furnace has been operating, our technicians can service it without fail. Besides, Excellent Air Heating & Cooling's furnace repair service is flexible and affordable, allowing you to take advantage of their expertise whenever necessary.
Our service also includes comprehensive tune-up and safety inspection services, ensuring that your furnace is well-maintained and safe to use. With our furnace maintenance service at your disposal, you can enjoy efficient and reliable furnace maintenance services without any hassle.
Choose Excellent Air Heating & Cooling for the Best Heating System Maintenance in Rochester, NY
If you're looking for the best heating system maintenance in Rochester, NY, look no further than Excellent Air Heating & Cooling. We are a local heating and cooling company that is well known for our professional service and quality repairs and replacements. With our years of experience and expertise, you can get optimal efficiency from both electric and natural gas furnaces.
We'll start by doing a thorough inspection of your furnace, testing all the parts to make sure they are working correctly and that there are no signs of wear or damage. We will then clean the furnace, removing any dirt or debris that could potentially cause problems down the line. After we're finished with the cleaning and maintenance, we will test the furnace again to make sure it is running at peak efficiency. And if there are any repairs needed, our team of experts will take care of those as well.
You can also avail of various heating maintenance discounts and priority services with an HVAC maintenance plan. Besides offering affordable services, Excellent Air Heating & Cooling is also a reliable and trusted company that you can call anytime for help with your heating system troubles. Call us today at 585-889-7840