Best Air Conditioner Home Installation in Rochester, NY and Nearby Areas
Air conditioning installation ensures your system is working optimally and providing the cooling comfort you desire. Whether you're looking to change an old system or install a new one, A/C installations should be done by trained professionals who can ensure its safety and performance.
With air conditioner installation services from Excellent Air Heating & Cooling, you'll enjoy multiple benefits that include energy efficiency, a longer equipment life span, and comfortable air. Whether you're looking for central air conditioning installation or ductless air conditioner installation, we're here to help. Let's get into the nitty-gritty of AC replacement in your home – why it's important and what to expect from the process.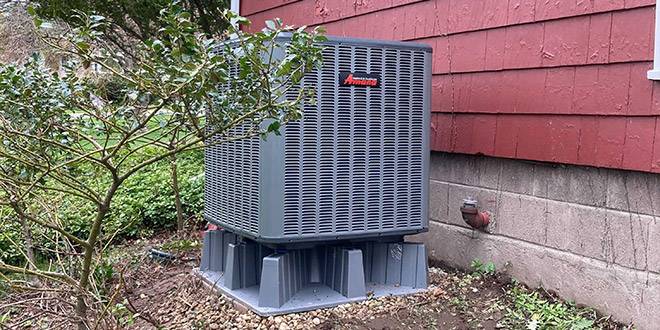 Get a Customized AC Unit Installation Solution for your Home!
At Excellent Air Heating & Cooling, we take pride in providing top-quality air conditioner home installation services in Rochester, NY, and the surrounding areas. No matter what cooling challenge you're facing in your home, we have a cost-effective and energy-efficient solution for you.
From central air conditioners to ductless mini splits and everything in between, we offer a wide range of AC units to choose from. And our team of NATE-certified technicians will help you select the perfect system for your specific cooling needs, preferences, and budget.
Once you've decided on the right cooling system for your home, we'll take care of the rest, including sizing and installing your new AC unit. Our installation process is quick, efficient, and done with minimal disruption to your daily routine.
Air Conditioning Installation Options for Different Home Conditions
Air conditioning installation options for different home conditions vary widely, from heating and cooling a single room with a single unit to installing a central air system with multiple units.
Central air installation can be more efficient, cost-effective, and easy to manage than individual unit air conditioners. They are also more energy-efficient and can significantly reduce your electricity expenses. With Excellent Air Heating & Cooling, you can rest assured that your new system will be properly sized and installed for optimal cooling performance.
For homes without ductwork, we offer the installation of ductless mini splits, which are a great option for heating and cooling individual rooms or specific areas. These air conditioners don't require any major renovations, making them a more cost-effective solution than central air systems.
If you're looking for more versatile heating and cooling options, we can also do heat pump installation. A heat pump can be used for both heating and cooling your home, making it a great all-in-one solution for year-round comfort.
No matter what type of air conditioning system you need, our team at Excellent Air Heating & Cooling is here to help. We'll work with you to determine the best option for your specific needs and budget, and we'll make sure your new AC unit is properly installed so you can enjoy years of worry-free comfort.
Feel the Benefits of a New, Energy-Efficient AC System
It's understandable why many homeowners put off air conditioner installation, as it can be a significant investment. However, the benefits of having a new AC system far outweigh the cost of installation. Not only will you enjoy the improved cooling performance and increased energy efficiency, but you'll also benefit from:
Reduced repair costs: Older air conditioners tend to break down more often and require more repairs. By investing in a new system now, you can avoid expensive future repairs.
Better indoor air quality: Newer systems come with superior filtration capabilities that can remove airborne contaminants from your home for improved indoor air quality.
ncreased home value: If you plan on selling your home in the future, a new air conditioner can actually increase its resale value.
When you're ready to install a new air conditioner at your home in Rochester, NY, or a surrounding community, call Excellent Air Heating & Cooling. We'll be happy to answer any questions you have and schedule a time for installation that's convenient for you.
5 Signs You Need Air Conditioning Installation
When it comes to your family's comfort, you should never take chances. Your air conditioning system is a vital part of your home, and if it's not working properly, it can have a major impact on your family's comfort and health. That's why it's important to be aware of the signs that you need AC installation so you can call for professional help as soon as possible.
Here are five signs that indicate you need air conditioning installation:
Your energy bills are skyrocketing: If you've noticed a dramatic increase in your energy bills, it could be due to an inefficient cooling system. A new unit will be much more energy-efficient, and it can help you save money on your monthly bills.
Your air conditioner is more than 10 years old: If your air conditioner is getting up there in age, it's probably time for an AC replacement. Older units are much less efficient than newer ones, so they end up costing you more money in the long run.
You hear strange noises coming from your AC unit: If you start to hear loud banging, grinding, or squealing noises coming from your air conditioner, it's a sign that something is wrong. These sounds could indicate that your unit is about to break down, so it's best to call for AC installation right away.
Your air conditioner can't keep up with the heat: If you find that your air conditioner can't keep up with the heat, it's time for a new one. A new unit will be much more powerful and efficient, so it'll be able to better handle those hot summer days.
You've had multiple repairs in the past year: You don't want to keep spending money on air conditioner repairs, so if you've had multiple issues in the past year, it's probably time to have installation air conditioning units. A new air conditioner will be more reliable and require fewer repairs, so it'll save you money in the long run.
You see, there are certain telltale signs that it might be time for an AC installation service. Being proactive will not only extend the life of air conditioner but also prevent any unnecessary wear and tear on your home. To schedule an appointment for an installation or repair, please call us today!
Ready to Start a Project? Call Excellent Air Heating & Cooling Now!
If you're planning on installing an air conditioner in your home, it's important to consider a professional ac install service. This can help to ensure that the air conditioning unit is installed properly and safely, saving you money and energy in the long term.
A reputable company like Excellent Air Heating & Cooling has years of experience installing air conditioning units in homes throughout Rochester, NY. It offers outstanding customer service and professional installation for any size project. Regardless of – the cooling requirements of your home, our team has the skill and experience to get the job done right. Call us today to get started!