Top-Notch Residential Air Conditioning Services in Rochester, NY
Looking for a residential air conditioner service provider in Rochester, NY? Excellent Air Heating & Cooling is your one-stop solution for all air conditioning service needs. We are a premium air conditioning company that boasts an expert team of technicians who can repair and install new air conditioning systems in homes and offices.
Whether you want to buy an entire heating system or cooling system or seek air conditioning repair services, you can count on us to deliver quality services at competitive prices. Besides, our AC service techs are licensed, insured, and experienced, which means they can handle any cooling emergency with ease. So if you're looking for an air conditioning service provider in Rochester that won't burn a hole in your pocket, look no further than Excellent Air Heating & Cooling!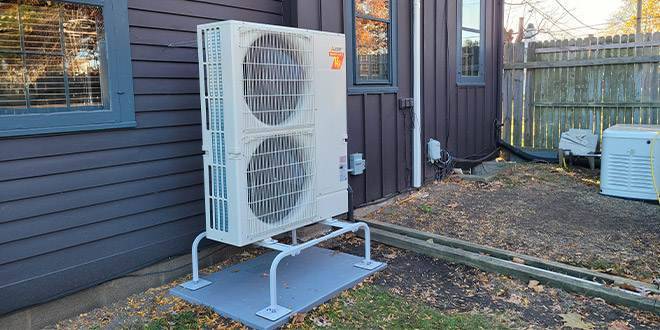 Top Rated Home Air Conditioning Service in Rochester, NY
If you're looking to keep your home comfortably cool this summer, you can't go wrong with a professional heating and cooling service from Excellent Air Heating & Cooling. A reliable AC can ensure that your home stays at an optimal temperature, no matter the weather, and can help reduce energy costs year-round.
But before you choose an air conditioner service provider, it's vital to understand the pros and cons of each type. Here are a few tips to help you optimize your air conditioner's efficiency and get the most out of your investment (and the planet).
Clean your air filter regularly to ensure maximum cooling performance.
Schedule maintenance checks for your air conditioner every year, if possible, to prevent potential issues from developing prematurely.
In between services, check the air conditioning unit's seals for wear and tear. If they're damaged, replace them as soon as possible to avoid costly repairs down the road.
Keep track of any odd smells or noises coming from your air conditioner and make note of the incident for future reference.
If you've chosen a reliable residential AC service provider in Rochester, NY, such us our team, you can rest assured that it is providing quality service and care for both its customers and the environment.
Trust Excellent Air Heating & Cooling for All Your Air Conditioning Service Needs in Rochester, NY

For years, Excellent Air Heating & Cooling has proudly served the Rochester, NY area with quality air conditioning services. Heating and cooling is our specialty, and we're passionate about providing exceptional customer service every step of the way – from choosing the right AC unit for your home to annual maintenance checks.
We understand that everyone's needs are different when it comes to their home comfort, which is why we offer a range of air conditioning service and repairs to meet each individual's budget and requirements. And because we value your time (and money), we always provide free estimates prior to starting any work.
Whether you need a new air conditioner installed or you're looking for air conditioning repair services, our team is here to help. No job is too big or small for us to handle, and we're always available to answer any questions you may have along the way. Contact Excellent Air Heating & Cooling today and let us show you why we're the leading AC service provider in Rochester, NY!
Keeping Rochester's Homes Comfortable & Healthy Since 2003
With summer heat a constant threat, it's important to keep your home comfortable and healthy during the hottest months of the year. If you're looking for reliable and certified air conditioner service in Rochester, consider Excellent Air Heating & Cooling. We provide professional, top-quality service for residential air conditioners across the city, including heating systems and cooling units, from installation to repair or maintenance. Our team is experienced in handling any kind of AC problem and will ensure your home is kept warm and comfortable all year round.
We also offer affordable price propositions, and same-day AC service, backed by a 100% satisfaction guarantee. With customer reviews on social media, you can make a well-informed decision and get the best service possible for your home and family.
We Offer the Following AC Services
AC Repair
We understand that air conditioning units can break down at the most inopportune times. That's why we offer fast and reliable AC repair services in Rochester, NY. No matter when your unit decides to stop working, we will be there to help get it up and running again quickly and efficiently.
AC Installation
We also provide air conditioner installation services for those who need a new unit or are looking to upgrade their current one. We will work with you to find the best system for your home and budget and install it correctly the first time so that you can start enjoying cool, comfortable air as soon as possible.
AC Maintenance
When it comes to air conditioning units, preventive maintenance is key to keeping them running properly and avoiding costly repairs down the road. Our AC technicians will visit your home regularly to inspect and service your unit, so you can rest assured knowing that it is in good hands.
If you are looking for air conditioning services in Rochester, NY, look no further than Excellent Air Heating & Cooling. Our team of AC experts is ready to help with all of your cooling and heating needs, from repair to installation to maintenance.
Have a Question? Let Our AC Service Tech Handle All Your Cooling Woes!
If you're looking to protect your investment and make your air conditioning system last longer, our AC maintenance plans are a great option for you. Not only do these plans provide you with regular checks and services for your air conditioner, but they also include protection from damage caused by dust, debris, and animals.
With our services in Rochester, NY, you can enjoy worry-free cooling without the burden of high repair costs or technical difficulties. Plus, we offer a variety of heating and cooling services, including emergency air conditioning service. Our team of experienced technicians can help you with all your cooling needs. Call us today at 585-889-7840