Heat Pumps
Heat pumps are a great way to implement energy efficiency in your New York home. They take the place of furnaces and air conditioners by providing both heat and cool air whenever needed.
Our heating, ventilation, and air conditioning (HVAC) experts possess high levels of experience and knowledge to install, replace, repair, and maintain your home's heat pump.
If you are considering a new heat pump installation or replacement, or if you are looking for repairs or maintenance, you will not find more qualified and reliable professionals than you will at Excellent Air Heating & Cooling here in Rochester, NY, and its surrounds.No matter what type of residential heat pump you are contemplating or have, our experts live up to our reputation.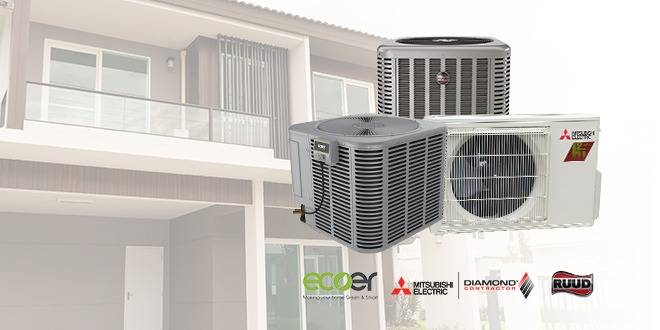 How Are Heat Pump Systems Different?
A heat pump is an electrical device that transfers heat from one place to another, typically from the outside air or ground into your home. Heat pump provides "clean heat," which refers to heat produced without using fossil fuels like oil or gas. Instead, heat pumps use electricity to move heat from one location to another, making them a more environmentally friendly option for heating your home.
Due to their energy-efficient operation and environmental benefits, there are many rebates, incentives, and federal tax credits available for homeowners who choose to install cold-weather heat pumps.
These programs aim to encourage the adoption of cleaner energy sources and help reduce greenhouse gas emissions associated with traditional heating systems. So if you're looking for a more sustainable way to heat your home in cold weather, a heat pump may be a great option to consider!
Heat Pump Benefits
Heat pumps are a smart investment for those looking to save money on their energy bills and reduce their carbon footprint. Unlike traditional air conditioning units, heat pumps can reverse themselves in the winter to steal free heat from outdoors and move it into your home, making them an all-in-one cooling and heating solution.
By choosing a heat pump over fossil fuels, homeowners can save money and do their part for the environment. And with rebates of up to $15,000, federal tax credits of up to $2,000, and manufacturer's rebates on selected equipment, there has never been a better time to invest in a heat pump system.
With all-electric options and the ability to add a heat pump to an existing gas or propane furnace for a dual-fuel system, there is a solution for every home. Not only will you be saving money on your energy bills, but you will also be taking important steps towards reducing your carbon footprint – something that we should all strive towards.
Heat Pump Installation and Replacement
If you are considering replacing your current heat pump or if you are thinking of converting from a traditional HVAC system to a heat pump, talk to one of our professionals. We recommend involving us from the beginning of your project, so we can help you save time and money with the best decisions.
Our heating and cooling experts have the experience and knowledge you are looking for in heat pump installations no matter what your project may be. We will give you a written proposal so you can read what we suggest and the work we propose to do.
We also offer financing if that can help you with your heat pump investment.
Heat Pump Repair
If your current heat pump suddenly fails or it is not working as efficiently as it should, call our Excellent Air Heating & Cooling heat pump professionals. We only work with the highest-quality parts and materials. When we make a repair, it stays fixed. And we guarantee our work, so you never have to worry about our craftsmanship.
And if your heat pump breakdown is an emergency situation after we are closed, we have you covered. We know emergencies don't only occur when we are open. We offer emergency service 24 hours a day, 7 days a week.
Your comfort and absolute satisfaction are priorities with us. We will always do all we can to accommodate whatever you need.
Heat Pump Maintenance
Keeping your heat pump properly professionally maintained throughout the year helps prevent unexpected failures and problems, as well as promotes the optimum efficiency from your system. It also goes a long way in extending your heat pump's life span.
Call Excellent Air Heating & Cooling for All Your Heat Pump Needs
Contact our team of experts to discuss how a heat pump can help you achieve the comfort level you want in your Rochester, NY, home. We are a proud carrier of top-rated heat pumps brands, such as Mitsubishi, Ecoer, and Ruud.
If you require repair or maintenance, our heating and cooling professionals can help you with that as well. Call 585-889-7840 or request service online today.