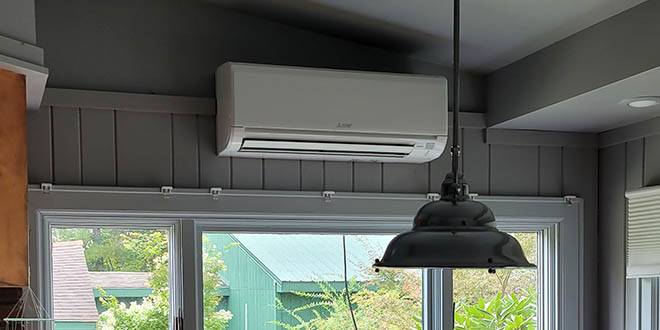 At Excellent Air Heating and Cooling, we understand that achieving the perfect indoor climate goes beyond just cooling or heating your home—it's about optimization for both comfort and efficiency. That's where our ductless air conditioning services come into play. Read on to learn how we're revolutionizing home comfort solutions in Rochester, NY.
What Is A Ductless Air Conditioning System?
Ductless air conditioning, also known as a mini-split system, offers a modern way to cool your home. It consists of an outdoor compressor and one or more indoor air-handling units connected by a conduit, eliminating the need for extensive ductwork.
5 Benefits of Ductless Air Conditioners:
Energy Efficiency: Because they don't involve ductwork, these systems avoid energy loss, making them super-efficient.
Easy Installation: Only a small hole in the wall is needed, making the installation process quicker and less intrusive.
Individualized Comfort: Each indoor unit can be controlled separately, allowing for multi-zone cooling and customized temperature zones.
Versatility: Ideal for homes without existing ductwork, new additions, or rooms that never seem to be the right temperature.
Quiet Operation: Unlike traditional systems, ductless air conditioning units operate very quietly, ensuring a peaceful indoor environment.
As you can see, ductless heating and air conditioning offer a host of advantages. If you're seeking a flexible, efficient, and quieter cooling solution, the next section will delve into how our air conditioning services can make that happen for you.
Expert Ductless Air Conditioning Services You Can Rely On
Unmatched Efficiency
Why continue to put up with the limitations of traditional air conditioning systems? Ductless units offer unparalleled energy efficiency, causing lower energy bills while giving you the precise temperature control you crave. These systems use inverter technology to adapt to your unique comfort needs, running at variable speeds to ensure optimal performance.
Quick and Hassle-Free Installation
Say goodbye to the invasive, labor-intensive process of installing ductwork. At Excellent Air Heating and Cooling, our technicians can install a ductless system in your Rochester, NY, home within hours, not days. The process involves minimal disruption, allowing you to enjoy your newly cool air almost immediately.
Personalized Comfort Zones
Ductless air conditioning systems empower you to create multiple climate zones in your home. Have a room that's always too hot in the summer? Customize its cooling parameters without affecting the rest of the house. With individualized remote controls, maintaining the ideal temperature in each room has never been easier.
Whisper-Quiet Operation
Do noisy air conditioning units disrupt your peace? You'll barely notice a ductless system's whisper-quiet operation. Designed with your comfort in mind, these units ensure a more tranquil environment for sleeping, working, or relaxing.
Eco-Friendly Cooling
We're committed to green technology and sustainable solutions. Ductless systems align with this ethos by reducing your carbon footprint. They utilize refrigerants with zero ozone-depletion potential and offer features like programmable timers to minimize energy use further.
Year-Round Versatility
Not just for summer, our RUUD or Mitsubishi ductless units also serve as efficient heat pumps in colder months. Enjoy year-round comfort with a single, multi-purpose unit, providing a cost-effective solution for both cooling and heating needs.
Discover a new frontier in home comfort. Choose Excellent Air's top-of-the-line ductless air conditioning services in Rochester, NY, and surrounding areas to experience cooling like never before.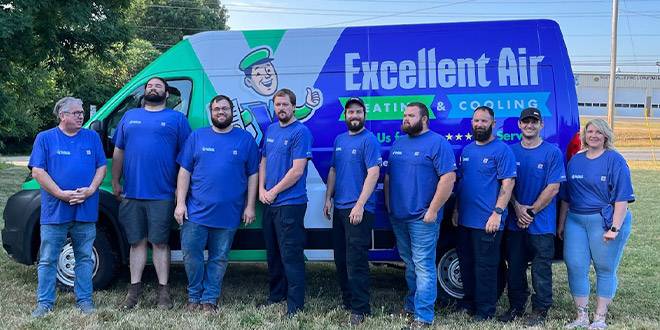 Frequently Asked Questions (FAQs)
How much should a ductless air conditioner cost?
The cost of a ductless air conditioner can range from $1,500 to $2,000 per ton (12,000 BTU per hour) of cooling capacity. Factors such as the brand, the number of indoor units, installation complexity, and local labor rates can influence the overall cost. It's advisable to get multiple quotes and choose a system that offers the best value for your specific needs.
Are ductless AC units expensive to run?
No, ductless AC units are generally not expensive to run. They are known for their energy efficiency, as they can cool individual rooms, reducing the need to cool the entire house. You also avoid the energy loss associated with duct systems, making them a cost-effective cooling solution in the long run.
Should I leave my ductless mini-split on all the time?
It's not necessary to leave your ductless mini-split on all the time. These systems are designed for efficient, targeted cooling, and many models come with smart features like timers and sleep modes. Leaving it on continuously may not be energy-efficient unless you're using a feature that optimizes usage, such as a programmable thermostat setting.
Elevate Your Comfort Level Now
Are you eager to experience unbeatable climate control in your home? Trust Excellent Air Heating and Cooling for your ductless air conditioning needs in Rochester, NY. Our seasoned experts are just a call away to assist you—from choosing the right unit to professional installation and ongoing maintenance. Make the smart choice for your comfort, and schedule your consultation today!