Feeling the heat with a malfunctioning HVAC system? Nothing disrupts home comfort more than an unreliable air conditioning system. Experience the relief of swift AC repair services tailored to your needs, ensuring consistent coolness even through Livingston County's most scorching days.
Our Air Conditioning Repair Services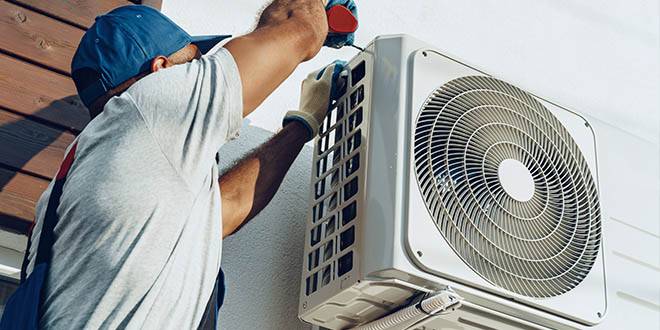 When your heating or cooling system breaks down, you don't just want a quick fix—you want the best solution that ensures long-lasting comfort. That's precisely what Excellent Air Heating and Cooling's top-tier AC repair services offer. Here's why we stand out:
Rapid Response HVAC Contractor
The moment your air conditioning unit shows signs of failure, filling your home with hot air, our highly responsive team is ready to spring into action. Located in the heart of Livingston County, NY, we understand the discomfort malfunctioning HVAC systems bring, and we prioritize restoring cold air swiftly.
Expert HVAC Technicians
With years of HVAC experience, our team at Excellent Air Heating and Cooling stands out among other HVAC companies. Our united heating and cooling contractors have expertise ranging from ductless air conditioners to indoor air quality support.
Advanced Diagnostic Tools
At Excellent Air Heating and Cooling, our commitment to quality HVAC service means using state-of-the-art diagnostic equipment. Whether it's an issue with your thermostat, a clogged filter, or a malfunctioning blower, our tools help us get to the root of the problem fast.
Quality Parts and Repairs
Using top brands like Ruud and Mitsubishi, we ensure only the best parts are used for central air conditioners. We also offer a complete range of premium indoor air quality products. This commitment guarantees your system's longevity and efficiency, ensuring you get the most out of your investment.
Transparent and Fair Pricing
Our upfront flat-rate pricing ensures you're never caught off-guard by unexpected costs. We outline all expenses for AC or heating services clearly, promising no hidden fees and ensuring you get the ultimate value for your money. We also offer a financing service agreement to help you save more money!
Customer Satisfaction Guarantee
We're not just in the business of AC repairs; we're in the business of trust. That's why we offer a 100% money-back guarantee on our emergency repairs. Your satisfaction is our reward, and we strive to ensure every repair meets your standards.
Other Air Conditioning Services We Offer
At Excellent Air Heating and Cooling, we provide a holistic approach to air conditioner and indoor air quality services. Beyond repairs, here are some additional services we offer to ensure year-round comfort:
Air Conditioning or Heating Maintenance
Benefit from our comprehensive tune-up & preventive maintenance packages. We inspect every part of your heating and air conditioning systems, ensuring efficient operation. This proactive approach helps prevent surprise breakdowns, especially during those hot Livingston County summers.
Air Conditioning or Furnace Installation or Replacement
Time for a new system? Let us guide you through selecting and installing the best unit for your space, ensuring efficient cooling and optimal performance. With our expert recommendations and partnerships with top brands, you're guaranteed a system tailored to your specific heating and cooling needs.
At Excellent Air Heating and Cooling, our mission revolves around providing Livingston County residents with unparalleled HVAC services. Trust us to prioritize your comfort, blending expertise with genuine care, every step of the way.
Frequently Asked Questions (FAQs)
Why did my AC stop working?
Several reasons could be behind this, ranging from issues with air handlers, or low refrigerant levels. Our expert HVAC contractors in Livingston County, NY, will diagnose and fix the problem for you.
What are the signs I need HVAC repair?
Unusual noises, unpleasant odors, and inconsistent cooling are all indicators that your HVAC system is in need of repair. If any of these occur, it's time to schedule a service call with Excellent Air Heating and Cooling.
Should I repair or replace my central AC unit?
Considering factors like your unit's age, repair costs, and overall condition will guide you to decide whether you need a simple repair or a new HVAC installation. If you're uncertain, our expert team can provide valuable advice tailored to your situation.
How often should I schedule HVAC unit maintenance?
Ideally, you should have it checked at least once a year, preferably before the peak summer or winter season. This ensures optimal performance and can help prevent unexpected breakdowns when you need your heating/air conditioning the most.
Call Excellent Air Heating and Cooling to Learn More!
Trust Excellent Air Heating and Cooling, your local HVAC company, for expert AC repair in Livingston County, NY. Schedule a consultation today and experience why our customer-first approach sets us apart.