Excellent Air Heating and Cooling: Our Story
We are family-owned and family-operated. This means, as our customer, you become an extension of our family. What better way to start a relationship than with those who already care about you? While we have been in business in the Rochester, NY, area for 20 years, we bring more than 30 years of expertise to the heating and cooling industry. Our installers and technicians are experts and can provide emergency heating and cooling service 24/7.
Over the years, Excellent Air has worked with thousands of clients to ensure their heating and cooling systems are running at optimal levels. Our family experience in the heating and cooling industry runs deep.
Father and son, Greg and Charlie, bring over 35 years of knowledge to the business. Specializing in old-fashioned craftsmanship with today's technology, Excellent Air works directly for homeowners in the community and provides superior customer service. We know that every customer, and every situation, is unique. So we work extremely hard to personalize your service.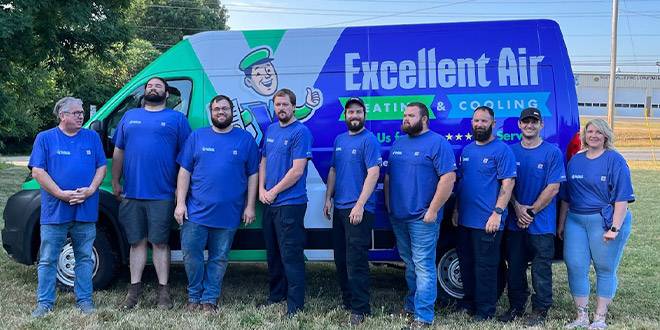 How We Stand Out from the Rest?
Residential heating and air conditioning in Rochester, NY are important. We understand that quality comfort services are critical to a comfortable environment. With years of experience, we have perfected our craft and can offer superior service to our customers. Our knowledgeable and experienced technicians use state-of-the-art tools to ensure accurate results, so you always get the perfect temperature in your home or business.
Our customer service staff is always ready to assist with any issues or questions, so you never have to worry about your air heating and air conditioning system. On top of that, we have a commitment to environmental protection by using green technologies and practices. This has helped us become a preferred service provider for many clients.
Why Choose Excellent Air Heating & Cooling
We at Excellent Air Heating & Cooling are committed to providing excellent air heating and air conditioning service. We provide quality service, with affordable prices, 24/7 customer support, and professionally installed heating and cooling systems. Our company offers quality products and services that can meet your indoor climate needs.
In addition, our customers have reported excellent service and treatment from us. We're known for our prompt and efficient service, clean installations, and friendly staff members. We are also certified by the Business Bureau and we're a member of the Air Conditioning Contractors Association (ACCA).
Our team is composed of highly trained professionals who can provide you with accurate air heating and air conditioning services in Rochester, NY.
Schedule your HVAC service in Rochester, NY today!
With the help of Excellent Air Heating & Cooling, you can have a well-maintained and safe home HVAC system in Rochester, NY. We offer quality maintenance, repair, installation, and safety checks to make sure that your system is running smoothly and efficiently. We also provide emergency services, so you never have to worry about your air heating or air conditioning system in case of an unexpected breakdown.
For all your air heating and cooling needs, contact Excellent Air Heating & Cooling today!